How 5G technology could change the future of music
Dance with a hologram of your favorite R&B artist on your 5G phone. Or watch a rising rapper perform his latest songs in a 360-degree virtual world in your living room. Those are some of the new music experiences being made possible by 5G.
While you don't need 5G to listen to your favorite musician, the communications technology is likely to play a big role in the future of music.
5G can be a powerful tool for connecting musicians and their fans, supporting music trends that incorporate virtual reality, augmented reality, enhanced streaming and more. Fans can join in events when they can't be there live and can immerse themselves more fully in the artists' vision, accessing multiple camera angles and virtual worlds created to accompany the music.
Tech has always amplified musical possibilities.
From the invention of the first electronic speaker, music tech has powered better experiences. For instance, as concert venues and crowds grew larger, eroding the quality of the experience, technology—in the form of better speakers, big screens and more camera angles—helped bring back the magic.
Music tech like synthesizers and electronic drums led to new music trends like electronic dance music (EDM). Music tech also changed personal music consumption. We moved from massive turntables and six-foot-tall speakers to the portable Walkman® and now to streaming on our phones.
With 5G, this pairing of technology with music is taking another leap forward. 5G media and entertainment is expected to drive $1.3 trillion in revenue by 2028.1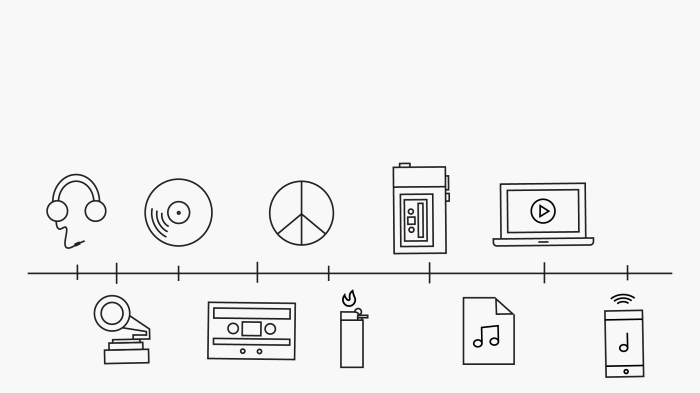 How 5G can unleash musical innovation
The increasing availability of 5G technology is expected to change the experience of creating and consuming music, whether you're recording in a professional studio or in your garage, and whether you're attending a concert or listening in your car.
R&B artist Asiahn predicts that 5G will help artists "take the ceiling off everything—like break every glass that exists around us—just to be able to reach out and touch our supporters in different ways."
Reimagining the live show
5G could transform the in-venue experience. In large stadiums, it can enable multiple camera angles so fans can feel like they're at the front of the stage if they want or can focus on a particular band member.
Using personalized audio over 5G, music festival fans with high-definition headphones should be able to block out distractions and hear sound quality equivalent to what's coming off the mixing board. They could even choose to focus their audio feed on one instrument in the band—so a bass player, for instance, can zero in on that instrument.
Getting around a live concert venue should also become more convenient as augmented reality wayfinding services lead the way to the bathroom, a concession stand or the closest exit.
Making music more immersive
Rolling Stone magazine predicts that 5G's impact will affect music trends beyond in-venue concerts as those in the music business look for new opportunities.2
Livestreaming will become even more compelling as 5G allows artists to deliver complex digital experiences to their fans in near real time. Artists could incorporate augmented reality—a technology that can superimpose digital visual elements and sound on a user's view of the actual world—to provide a richer artistic experience.
To explore these possibilities, Capitol Music Group, Motown Records and Verizon's 5G Labs have teamed up to create an Emerging Tech and Emerging Artist program that uses 5G and mobile edge computing. Recording artists at Verizon's 5G Lab in Los Angeles have access to a 5G-powered virtual production stage, a volumetric capture studio to create holograms, game engine technology and a suite of extended reality production tools.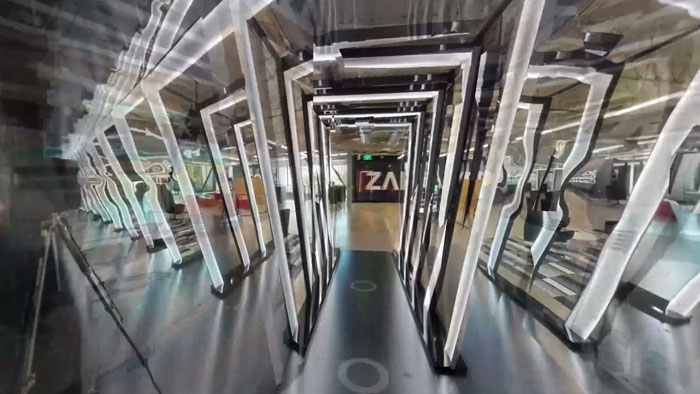 "Artists can now build entire digital worlds by using the same technology that's used to create video games to bring their creative vision to life," said Andrew Zarick, Head of Partnership Activations at Verizon 5G Labs. "This completely changes the way artists engage with fans now and in the future."
With the program's help, rapper and singer TheHxliday designed a 360-degree virtual world that morphed from a desert landscape with bouncing moons to a lush forest with butterflies for his 20-minute performance of "The Most Beautiful Disaster." With 5G, Verizon was able to record and stream the performance in a way that nearly eliminated the side effects of image compression that are visible to the naked eye.
Artist Asiahn used the tools at the 5G Labs to create an augmented reality experience for fans. The team at the lab used volumetric capture to create a holographic video performance of Asiahn dancing. When you play the music video, the app overlays Asiahn into your own living room, bringing the artist to your personal space. Switch modes and you see a northern-lights display with lyrics flying by as you play the song. In director's cut mode, she's in the room with you, talking about the video and the story behind it.
"That extension of this digital 2D video into your physical 3D world is indicative of what we think the table stakes will be going forward when you think about content," said Zarick. "It's not just lean back. It's interactive, it's immersive. And it begins to shift entertainment from a single platform experience to a multiplatform experience, reaching fans wherever they are."
Collaborating across continents
Technology, paired with a need for distanced connections created by the COVID-19 pandemic, is also spurring increased online music collaboration through platforms such as BandLab and Kompoz.
Musicians from all over the world are meeting together remotely. The Veltrons, whose members are from London, upstate New York, Vancouver and San Francisco, met on the Endless music collaboration app and have produced two albums, despite having never met in person.
While this kind of online music collaboration is already happening, the high performance of 5G networks should make it more seamless—meaning fans could see more exciting collaborations in the future.
Empowering everyone to create
While bands backed by big labels already have the resources to create amazing high-tech experiences for fans, 5G will help make music tech more accessible to everyone, Zarick said. We are already partway there.
"If you have an iPhone®, you're a moviemaker," Zarick said. "So you can make your music video, you can post to TikTok®, you can find a way to build your audience. And by the way, that phone in your hand is starting to come with new and amazing features like being able to do 3D scanning."
"These tools no longer just sit within the scope of folks that have dollars and access," he said. And that could make a difference in what kind of music we all experience in the future.
"This really starts to bring about a new wave of creators with new forms of creative expression," Zarick said, "and begins to unlock new sustainable ways to monetize their work."
Verizon 5G's role in music innovations
Since a 2019 concert with the Chainsmokers, Verizon has been exploring what 5G can do for music. Whether through collaborations like the Emerging Artists program, 5G build-outs in stadiums and venues across the country, or other new and exciting applications, Verizon will continue to push the future of music technology.
Find out more about how the Verizon 5G Labs are helping artists, innovators and others put the power of 5G to use.
Source:- https://www.verizon.com/about/news/how-5g-technology-could-change-future-of-music