Mark A Gregory, RMIT University
If you take a stroll outside today, you'll see a lot of people with mobile phones, phablets or tablets in their hands making calls, using the internet to catch up on the news, watch videos, or interacting with others via Facebook, Tumblr or Twitter.
In doing so, they're all using a mobile data network. Many of these applications – particularly video – consume a lot of bandwidth, so telecommunications companies across the world are starting to talk about upgrading to the latest generation of mobile data to help speed things up.
If you think back to early 2011 you might remember a technology imaginatively called 3G, which was short for "3rd generation". You might also remember how everything you tried to do on the 3G network was so clunky and slow.
Many of us wanted to capitalise on some of the new features available to us on our revolutionary new smartphones like the Apple iPhone that we all rushed out and bought, but often the network just couldn't keep up.
Things were eventually upgraded to 4G, which we've had in Australia for just under four years, although even this is starting to show its age.
So you might think that 5G might be just around the corner. But we likely won't see 5G networks until the end of this decade. In the mean time we can expect telcos to start rolling out some of the technologies being developed for 5G in their existing networks.
4.5G?
Have you noticed that Telstra is now using the groovy term "4GX" to describe the latest upgrade to its mobile network being rolled out around Australia?
If you're lucky enough to have a new handset like the Apple iPhone 6 or the Samsung Galaxy Note 4 then you'll notice the new 4GX splash screen when your handset starts up.
The key 4GX enhancements are increased speed and better coverage in-building and in regional areas. This is thanks to the inclusion of spectrum sharing that better utilises Telstra's 1,800MHz and 700MHz spectrum bands.
Telstra has only recently been able to add the 700 MHz band spectrum to its mobile network that it bought when analog television was switched off for good and consigned to history.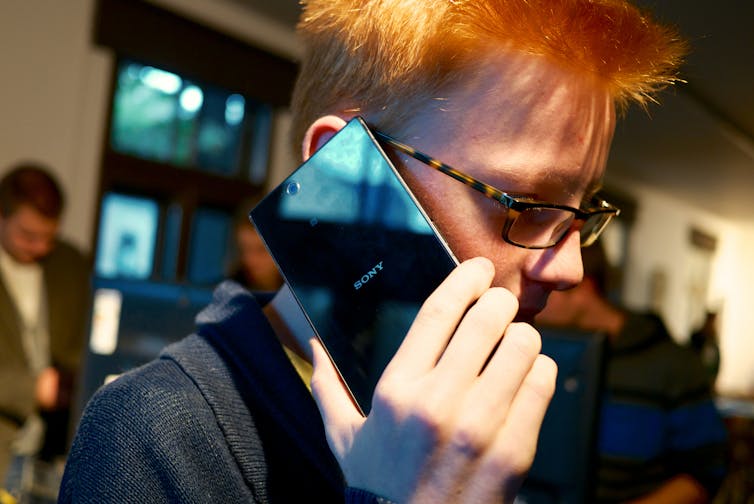 High VoLTE
The next step along the pathway towards true 5G is likely to occur in coming months when the telcos roll out Voice over Long Term Evolution (VoLTE). VoLTE will replace the existing 3G technology used for voice calls over the cellular network.
Optus, Vodafone and Telstra completed VoLTE trials earlier this year and are already preparing to roll it out.
Customers will benefit when VoLTE is introduced because the 3G channels used for voice calls will eventually be reallocated to provide increased bandwidth for data, which is increasingly taxed by the services mentioned above.
Already a large number of recently released handsets support VoLTE, and the VoLTE roll out will coincide with a network upgrade that will provide new services and improved video call capability.
A key requirement for 5G is increased connection speeds that are far superior to those experienced now. There are three factors affecting 5G connection speeds: how fast a device is moving; distance from the cell base station; and the number of devices in the same cell.
The Next Generation Mobile Networks Alliance has published a white paper (PDF) that gives an idea of download speeds in a variety of usage scenarios. These vary from very high customer density, offering 25 Mbps to 50 Mbps, to typical cell edge data rates for 95% of users with high mobility, giving a minimum of 100 Mbps. The optimal is near the cell centre with low mobility giving 1 Gbps, and the 5G peak data rate is 10 Gbps.
Another key requirement that aims to reduce some of the congestion in busy areas is the introduction of seamless handover to Wi-Fi. This means that handsets will automatically shift from using 5G to Wi-Fi when the handset is in range of a Wi-Fi access point.
Have you also noticed that Telstra has commenced rolling out a national Wi-Fi network? And that Optus has announced it is rolling out Wi-Fi in major shopping centres?
Initially the Telstra and Optus Wi-Fi networks will be open and free for everyone to use, albeit with usage limitations. But in 2016, Telstra and Optus are likely to restrict the Wi-Fi networks to paying customers only in order to be ready for the introduction of handsets capable of seamless handover from mobile to Wi-Fi.
All the way to 5G
As we approach 2020 it is likely that there will be more than 50 billion connected devices worldwide and The Internet of Things will no longer be something we think about but will be all around us. Everything from home appliances to our cars will be connected to the network, and 5G is being designed and built with this in mind.
Not only will more devices be connected to the 5G network than we've ever imagined, but the network will do everything better than 4G. This includes providing the capability and capacity for high resolution video streaming such as ultra high definition 4K video.
Privacy and security are also key considerations, so 5G will include extra capabilities to ensure that customer information is protected and our devices are harder to hack.
An oft-forgotten aspect of our mobile connectivity is battery life. The target for 5G networks is handsets, phablets, tablets and other devices with five times the battery life of existing 4G devices. Imagine not having to recharge for a couple of days or being able to watch a couple of movies without having to find a power outlet to plug into.

Mark A Gregory, Senior Lecturer in Electrical and Computer Engineering, RMIT University
This article is republished from The Conversation under a Creative Commons license. Read the original article.