5G will be a convenient but expensive alternative to the NBN
Rod Tucker, University of Melbourne
Will Australia's National Broadband Network (NBN) face damaging competition from the upcoming 5G network? NBN Co CEO Bill Morrow thinks so.
This week, he even floated the idea of a levy on mobile broadband services, although Prime Minister Malcolm Turnbull quickly rejected the idea.
NBN Co is clearly going to have to compete with mobile broadband on an equal footing.
---


Read more:
Like it or not, you're getting the NBN, so what are your rights when buying internet services?


---
This latest episode in the NBN saga raises the question of exactly what 5G will offer broadband customers, and how it will sit alongside the fixed NBN network.
To understand how 5G could compare with the NBN, let's examine the key differences and similarities between mobile networks and fixed-line broadband.
What is 5G?
5G stands for "5th generation mobile". It builds upon today's 4G mobile network technology, but promises to offer higher peak connection speeds and lower latency, or time delays.
5G's higher connection speeds will be possible thanks to improved radio technologies, increased allocations of radio spectrum, and by using many more antenna sites or base stations than today's networks. Each antenna will serve a smaller area, or cell.
The technical details of 5G are currently under negotiation in international standards bodies. 5G networks should be available in Australia by 2020, although regulatory changes are still needed.
Connections on 5G
In a mobile network, the user's device (typically a smart phone) communicates with a nearby wireless base station via a radio link. All users connected to that base station share its available data capacity.
Australia's mobile network typically provides download speeds of around 20 Mb/s. But the actual speed of connection for an individual decreases as the number of users increases. This effect is known as contention.
Anyone who has tried to upload a photo to Facebook from the Melbourne Cricket Ground will have experienced this.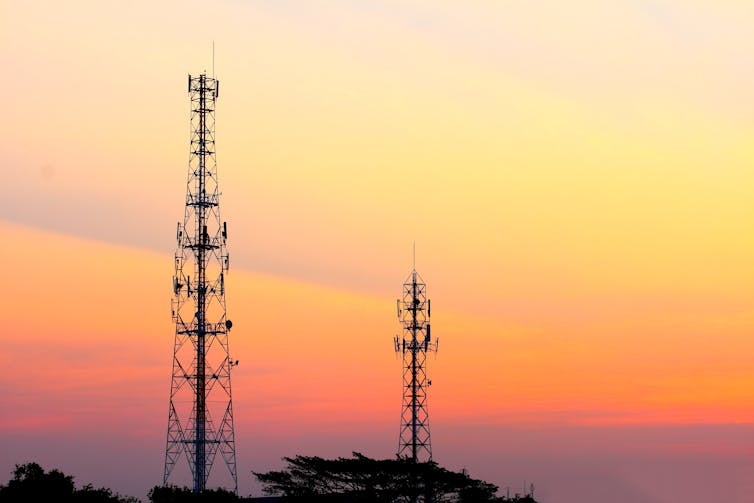 The maximum download speed of 5G networks could be more than 1 Gb/s. But in practice, it will likely provide download speeds around 100 Mb/s or higher.
Because of contention and the high cost of the infrastructure, mobile network operators also impose significant data download limits for 4G. It is not yet clear what level of data caps will apply in 5G networks.
Connections on the NBN
In a fixed-line network like the NBN, the user typically connects to the local telephone exchange via optical fibre. Directly, in the case of fibre-to-the-premises (FTTP), or by copper wiring and then fibre, in fibre-to-the-node (FTTN).
An important difference between the NBN and a mobile network is that on the NBN, there is virtually no contention on the data path between the user and the telephone exchange. In other words, the user's experience is almost independent of how many other users are online.
But, as highlighted in the recent public debate around the NBN, some users have complained that NBN speeds decrease at peak usage times.
Importantly, this is not a fundamental issue of the NBN technology. Rather, it is caused by artificial throttling thanks to the NBN Co's Connectivity Virtual Circuit (CVC) charges, and/or by contention in the retail service provider's network.
Retail service providers like TPG pay CVC charges to NBN Co to gain bandwidth into the NBN. These charges are currently quite high, and this has allegedly encouraged some service providers to skimp on bandwidth, leading to contention.
A restructuring of the wholesale model as well as providing adequate bandwidth in NBN Co's transit network could easily eliminate artificial throttling.
The amount of data allowed by retailers per month is also generally much higher on the NBN than in mobile networks. It is often unlimited.
This will always be a key difference between the NBN and 5G.
Don't forget, 5G needs backhaul
In wireless networks, the connection between the base stations and internet is known as backhaul.
Today's 4G networks often use microwave links for backhaul, but in 5G networks where the quantity of data to be transferred will be higher, the backhaul will necessarily be optical fibre.
In the US and elsewhere, a number of broadband service providers are planning to build 5G backhaul networks using passive optical network (PON) technology. This is the type used in the NBN's FTTP sections.
In fact, this could be a new revenue opportunity for NBN Co. It could encourage the company to move back to FTTP in certain high-population density areas where large numbers of small-cell 5G base stations are required.
So, will 5G Compete with the NBN?
There is a great deal of excitement about the opportunities 5G will provide. But its full capacity will only be achieved through very large investments in infrastructure.
Like today's 4G network, large data downloads for video streaming and other bandwidth-hungry applications will likely be more expensive using 5G than using the NBN.
---


Read more:
The NBN needs subsidies if we all want to benefit from it


---
In addition, future upgrades to the FTTP sections of the NBN will accommodate download speeds as high as 10 Gb/s, which will not be achievable with 5G.
Unfortunately, those customers served by FTTN will not enjoy these higher speeds because of the limitations of the copper connections between the node and the premises.
5G will provide convenient broadband access for some internet users. But as the demand for ultra-high-definition video streaming and new applications such as virtual reality grow, the NBN will remain the network of choice for most customers, especially those with FTTP services.

Rod Tucker, Laureate Emeritus Professor, University of Melbourne
This article is republished from The Conversation under a Creative Commons license. Read the original article.